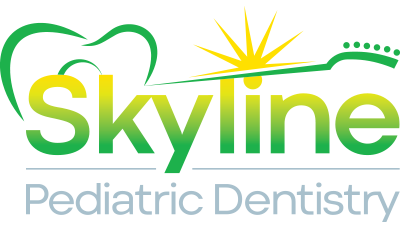 First Visit
Pediatric Dentistry Omaha, NE
Your Child's First Visit to the Dentist
Our approach to your child will be one of the same respect, tenderness, and care that we would expect someone to show our own children. The purpose of the first visit is to establish a positive relationship with the child and to evaluate the child's dental health as a guide to future treatment needs. Our goal is to have your child remember each dental visit as a pleasant, positive learning experience whenever possible.
You, as parents, play an important role in developing a good attitude toward dental care. We suggest being completely natural, casual, and easy going when you tell your child about the dental appointment. Try to avoid "over-explaining" or using dental treatment to scare your child. A big part of what we do at Skyline Pediatric Dentistry is known as "tell-show-do." We will explain dentistry to your child in age-appropriate terms that he or she can understand, then show them what we will do, and finally complete each procedure.
About the First Appointment 
The first appointment will consist of a cleaning, thorough examination, and fluoride treatment. Most children need x-rays for a complete and comprehensive examination. These x-rays help us diagnose cavities, jaw abnormalities, cysts, tumors, and missing teeth that we might otherwise not be able to see with the naked eye.
After the examination, your child's oral health and proposed treatment plan will be discussed with you. Please be sure to ask any questions that you may have – that's what we're here for!
Patient Forms
You may access the following new patient forms to assist us with your care. Please print and fill out the desired form, then bring it to your first appointment.
If the documents don't seem to print correctly, please make sure you have the latest version of Adobe Reader and the latest version of your printer driver software installed.
Financing and Insurance
It is our policy to receive payment when treatment is rendered. If you have any questions concerning our fees or methods of payment, please let us know.
There is a variety of dental insurance coverage. Nearly every dental plan limits the amount of money the insurance company will pay for covered services. Coverage is rarely 100 percent. If you have questions about your coverage, please refer these questions to your insurance carrier or to your employer.
As a courtesy to our patients, we will complete a claim form at our expense. However, since you receive our professional services, you are responsible to us for payment. We request that payment for services be made by you.
Thank you for your confidence and for entrusting your child's care to us.
Hours
Mon, Tue, Thu:
7:30am – 5:00pm
Wed, Fri:
7:30am – 12:00pm