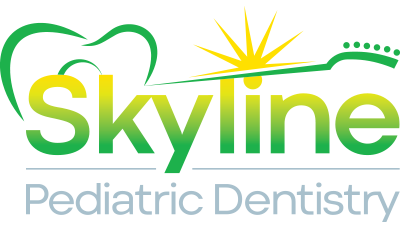 "Wonderful experience and very caring staff! Very professional and friendly. Takes very good care of the patients. They definitely understand children and how to make them feel comfortable. We switched dental practices because this practice is exceptional." – Arnold E. 
"My daughter needed a pediatric dentist a few years ago and Dr. Woodward was highly recommended. We have had nothing but great experiences at Skyline. The staff is knowledgeable and kind. Dr. Woodward is excellent with the patients. He meets you with your child after the visit and discusses everything with you. It's a very caring environment overall where children have top notch care in a clean and safe place." – Julie R. 
"I have had the best experiences with this dental office. They do great with easing kids into the environment if they have anxiety about dentist. Extremely knowledgeable dentist who is always so thorough and responsive to any concerns" – Megan M.
"Dr. Woodward and his team are amazing—great rapport with kids, excellent communication with parents. The clinical staff is caring and professional and administrative staff is always helpful and accommodating to our family's needs. Thank you!" – Cherine B.
"Very friendly/kind people everyone explained everything to us before doing anything and were really good with my 3 yr old who's not so fond of doctors offices/hospitals! Thank you for the great service and being so gentle with my not so easy son!" – Tara B
"This place is amazing the dental hygienists were so welcoming a made sure our daughter was comfortable with them before they started doing anything on her. The dentist himself is amazing he does very professional work an is very caring of the patients. Hands down best place to take your kids." – Amanda T.
"Dr Woodward, DDS. is excellent!!! OMG, I wished he took adults…because I would refer all of my friends and family, in a heartbeat. He did excellent work on my son, made us feel soooo comfortable, explained what needed to be done, & when surgery time came he explained procedures and aftercare, he really takes pride in what he does…I absolutely Love him!" – Consuelo R.
"Dr. Woodward and team at Skyline Pediatric Dentistry are simply the best! Everything from check-in, to the visit (cleanings, fluoride, and x-rays), and follow-ups are always seamless and effortless! My children appreciate the fun waiting area to calm any pending nerves that sometimes that can come along with the dentist. No nerves here! Thank you for all that you do!!" – Bonnie G. 
Hours
Mon, Tue, Thu:
7:30am – 5:00pm
Wed, Fri:
7:30am – 12:00pm